Venues
Some of our clientele have included:
The Tallahassee Film Festival
Big Bend Salt Water Classic Auction
Tallahassee Democrat
Tallahassee Women Lawyers Assn.
Numerous Legislature Events
Maclay School Silent Auction
Florida Public Defenders Assn.
Marina Fisherman
Infinity Software
Datamaxx
Fundraisers:
US Pres. Candidate/Bob Graham
US Congressman/Allen Boyd
Mayor/John Marks
Gov. Candidate/Bill McBride

Bryan Desloge Victory Party
Trinity Catholic School Auction
Leadership Tallahassee
Chamber of Commerce Events
Apalachee Longbeards Assoc.
Jazz at the Gray
Tallahassee Barristers Assoc.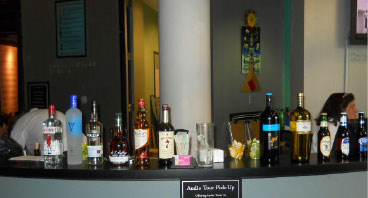 Tallahassee Builders Assoc.
Tallahassee Realtors Assoc.
Miami Herald
Southern Hunter Jumper Assoc.
Rotary and Charter Clubs
Williams Communications
Law Offices
Real Estate Socials
Fraternities and Sororities
Cocktail Home Parties
Celebrations of Life (wakes, after funerals)
Weddings galore!
---
Some of the establishments we've worked in:
Lichgate
Dorothy Oven Park
Goodwood Carriage House
Brokaw-McDougall House
Mary Brogan Museum
Pebble Hill Plantation
The Woman's Club, Los Robles
FSU Law School
Kinhega Lodge
Southwood
The Inn at Wildwood
Willow Pond
The Retreat at Bradley's Pond
22nd Floor of The Capitol
Weddings galore!
Homewood Suites, Hilton
Maclay Gardens
Shiloh Farm
The Space at Feather Oaks
Gin Creek
Numerous Law Firms
Tallahassee Fairgrounds Events
Tallahassee Garden Center
Antique Car Museum (new and old)
John Denham House, Monticello
Monticello Opera House
St. George Island, Carrabelle, Destin Beach,
Santa Rosa Beach, Panama City, Mexico Beach
and Apalachicola.